Bay Area Green Builder & Remodeling Contractor, Bill Fry Construction,
Green Building Professional, offers Green Building Choices for your Eco-Friendy Home


In addition to our green building knowledge and experience, our clients appreciate our collaborative approach in providing informed choices toward a healthier, lower-maintenance, eco-friendly, and more energy-efficient home - without being dogmatic about it! Bill Fry is a Certified Green Building Professional (CGBP) through Build-It-Green. He passed the certification exam with a score of 99%.

Most Bay Area building departments have green building requirements for new home construction and home remodeling remodeling that exceed the California Green Building Codes (CALGreen). The Wm. H. Fry Construction Company can streamline your project through these new regulations and provide you with options to surpass them (so your home will be current in the future).

To support green-building practices on eco-friendly new home construction and home improvement projects, the Wm. H. Fry Construction Company is a member of the United States Green Building Council (USGBC), the creator of Leadership in Energy and Environmental Design (LEED) and Build It Green, a non-profit organization that promotes healthy, energy-efficient and resource-efficient buildings.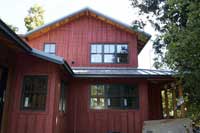 This green Los Altos custom home, designed with LEED, Leadership in Energy & Environmental Design, in mind demonstrates our approach toward Bay Area green homebuilding where the homeowners selected the aspects of green homebuilding that mattered to them most. Below is a summary - note that some categories overlap:
Energy Efficiency - Net Zero Energy (actually net positive) acheived through solar panels, radiant heat, high-efficiency HVAC system, high efficiency water heater, high-efficacy lighting fixtures, energy-efficient windows
Indoor Air Quality - use of no and low VOC products, radiant heat, high-efficiency forced air system, indoor air ventilation, heat recovery ventilation system (HRV), make up air system, waterproofing systems
Strategies for Sustainability - long-lasting standing seam metal roof, quality materials, waterproofing systems
Eco-Friendly Products - no-VOC products, no-VOC finishes, denim insulation, chemical-free decking materials, vetting of all products installed in home,FSC-certified (Forest Stewardship Council) wood
Water Conservation - gray water recycling, rain collection system, high-efficiency irrigation
Responsible Deconstruction and Recycling - lead testing and responsible deconstruction, recycling of waste materials

---
Net-Zero Energy and Net-Positive Energy Green Building and Green Home Remodeling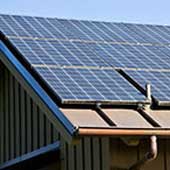 It is easy and cost-effective to go green by making simple design and purchasing decisions. Many of our projects, both remodels and new home construction, include passive and active approaches to green building, such as the reduction of energy consumption and the use of sustainable and renewable resources. The solar panels on this garage roof resulted in a near-zero electric bill for the owners of this 6000 square-foot Bay Area new custom home in Saratoga. This home also features a Heat Recovery Ventilator System (HRV) which improves indoor air quality. This Los Altos new custom home with LEED design, actually makes more energy than it uses.
For further reading, we recommend the books: Green from the Ground Up: Sustainable, Healthy, and Energy-Efficient Home Construction (Builder's Guide) and Toward a Zero Energy Home: A Complete Guide to Energy Self-Sufficiency at Home both by Scott Gibson and David Johnston. While Green from the Ground up was written in 2008, the concepts presented therein are still valid. You can get copies of these green building reference books at your local library or ask us for a copy.

Learn more about green building on the green building section of our blog, The Contractor's Wife
---
For Safe and Eco-Friendly Deconstruction, we are an EPA Lead-Safe Certified Firm
(RRP: Renovation, Repair, and Painting Rule)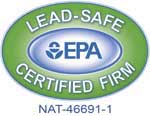 As required by law, for remodeling homes built prior to 1978, the Wm. H. Fry Construction Company is an EPA Lead-Safe Certified Firm (Certification #NAT-46691-1). In addition, homes built after 1978, can have lead tile, which should be appropriately removed and disposed of in order to protect the health of homeowners and others. In addition to green home remodels, we also recommend lead testing for new home construction (which is not required by law). Learn more about lead-safe Bay Area green remodeling and the RRP Rule training (Renovation, Repair, and Painting Rule).
---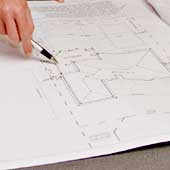 The Energy Efficiency Standards for Residential and Nonresidential Buildings, commonly referred to as Title 24, are designed to reduce California's energy consumption. As part of their green building ordinance, Los Altos, Los Altos Hills, Palo Alto, all of San Mateo County (i.e.., Atherton, Menlo Park, Portola Valley, Woodside), and others have chosen to exceed these energy standards. Some cities also reward homeowners for exceeding Green Point Rating scores with expedited permit processing and guaranteed building inspection scheduling. By further exceeding the mandatory measures of Title 24, you can plan even more energy saving strategies to increase energy efficiency (e.g., Title 24 lighting, Energy Star appliances) or promote energy conservation (e.g., efficient windows, higher R-value insulation).
---
Green Custom Cabinets for Kitchen, Bath, & Home Office: for the Environment and your Health
(no added urea formaldehyde and no VOC)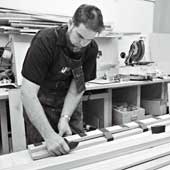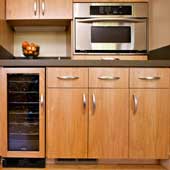 We provide our clients with numerous green choices for custom cabinetry, either built to our specifications by one of our partners or in our own custom cabinet shop. There are a number of considerations for building a greener cabinet, such as: Is it local? Is it sustainable? Is it renewable? Is it healthy?

FSC certified labeling (Forest Stewardship Council) ensures that products have been responsibly forested. Almost everything made from wood and other forest products is available with the FSC label. At the same time, many sustainably produced products do not have FSC labeling.

Adhesives in pressed wood products (e.g., hardwood plywood) that contain urea-formaldehyde (UF) resins affect indoor air quality and take years to off-gas. The California Air Quality Resources Board (CARB) is instituting more stringent regulations. And we can exceed these by recommending NAUF (no added urea formaldehyde) products for casework. For a nominal increase in material cost, we purchase PureBond® by Columbia Forest Products. Their website provides comprehensive information on soy-based resins and the benefits of "formaldehyde-free" construction. Columbia Forest Products has admitted the Wm. H. Fry Construction Company to their PureBond® Fabricators Network. In addition have been honored by Columbia Forest Products in 2014, 2013, and 2012 for our commitment to fine cabinetry and superior indoor air quality.



Columbia Forest Products Profiles in Quality: Wm. H. Fry Construction Company
Many finishes contain VOCs or Volatile Organic Compounds. Low-VOC, non-VOC, and non-toxic finishes are available. As compared with formaldehyde, VOCs from finishes take a relatively short time to off-gas. For wet applications, until the technology improves, such as a high-use bathroom custom cabinetry, we recommend "conventional" finishes for our custom cabinetry.
---
Bill Fry works with RECLAIM - Menlo Park's Green and Eco-Friendly Home Store Interior Design Team
RECLAIM, healthy green home store in Menlo Park, was our interior design partner on an eco-friendly remodel in Palo Alto. Green decisions were made every step of the way from design, to deconstruction, to construction, to cleanup, and finally to furniture. RECLAIM's owner, Bridget Biscotti Bradley authored: The Green Home: A Sunset Design Guide.
Sadly, this eco-friendly home store closed at the end of 2011.
Learn more about the Palo Alto green remodel that exceeded the City of Palo Alto Home Remodeling Green Building Checklist.