Los Altos Building and Remodeling Information
The City of Los Altos covers just over 6 miles has a population of about 29,000 (2009 data). The Los Altos Building Division is responsible for performing architectural and structural plan checks, scheduling and performing building inspections and providing general customer information services. The City of Los Altos enforces the California Building code and requires building permits for nearly all home improvement projects such as: home addition, home renovation, kitchen remodeling, bathroom remodeling, new home construction, and outdoor living areas including arbor, gazebo, deck, trellis, and fireplace. The best way to streamline your project is to have a plan that is fully compliant with zoning regulations as obtaining a variance is both costly and time-consuming. Bill Fry, general contractor can recommend a designer or architect who is a good fit for you and your home. He can also produce working drawings for simpler projects.The City of Los Altos Residential Design Guidelines for New Homes and Remodels offers helpful advice for single-family residential architectural design.

Go to Town of Los Altos Hills Building and Remodeling Information


City of Los Altos Commmunity Development Department
The Los Altos Commmunity Development Department is adjacent to the Los Altos Library:
1 North San Antonio Road
Los Altos, CA 94022
telephone: 650.947.2752


Green Building in Los Altos
As of 2007, the City of Los Altos instituted Green Building Regulations using the GreenPoint Rating developed by the Build It Green organization. Any new building or building that has a significant alteration (more than 50% of the original structure not including the basement), must adhere to these regulations. New and remodeled buildings must also exceed existing Caliornia Title 24 energy efficiency requirements by at least 15%. As the regulations are increasing all the time, you can choose to exceed them so that your home construction project today will be current in the future.


Building a Basement in Los Altos
Building a basement is a great way to expand the size of your home without expanding its footprint or floor area ratio (FAR). Basements are used for bedrooms, media rooms, home theaters, and are especially well-suited for wine storage, as their temperature remains relatively constant. Another benefit to basement construction is that basements stay cool in summer without air conditioning and save on energy bills. Basements are not restricted to new home construction; a new basement is often part of a remodel to an existing home. If a basement design includes plumbing, such as a bathroom, sink, or laundry room, wastewater will need to be pumped up to the sewer lateral. We have a pump in our own half-basement and it has been trouble-free for twenty-plus years. We do avoid using the downstairs bathroom if there is a power outage as we do not have the pump hooked up to a generator. The practicality and feasibility of getting a building permit for a basement is contingent upon local soil conditions; contact us for a referral to a Bay Area geotechnical engineering firm who can provide guidance on building a basement.

Construction Noise Ordinance Single-family zoning districts. Operating or causing the operation of any tools or equipment used in construction, drilling, repair, alteration, or demolition work on weekdays before 7:00 a.m. and after 5:30 p.m. and on Saturdays before 9:00 a.m. or after 3:00 p.m. or any time on Sundays or the city observed holidays of New Year's Day, Memorial Day, Independence Day, Labor Day, Veterans' Day, Thanksgiving Day and Christmas Day, such that the sound therefrom creates a noise disturbance across a residential or commercial real property line, except for emergency work of public utilities or by special exception. This section shall apply to operations on residentially zoned property only. This is the Los Altos Construction Working Hours Poster.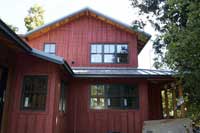 Los Altos Custom Home Building
LEED Designed

Los Altos Remodeling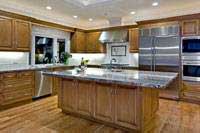 Los Altos Kitchen Design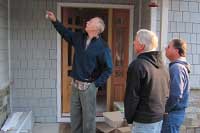 Making Plans for Construction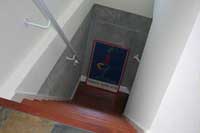 Basement for Wine Storage