More information About This Palo Alto Custom Home
Before and After Images and Additional Photos
Previously, the kitchen was closed off from the family room and was very outdated:
Here is the new kitchen: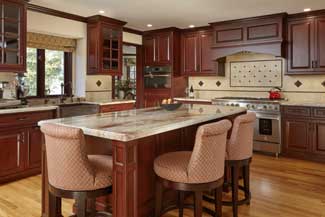 Here you can see walls dividing the kitchen area from the family room and the family room from the breakfast nook. Also, there is a large beam through the room, which was removed. All of the walls and ceilings in this room were taken down to the studs. But the floor was retained and new hardwood flooring was woven into the areas where the walls were removed:



Here is the new family room with new built-in cabinetry, a wine room in the closet, and an updated fireplace:



Here is the old living room. The french doors were repaired along with water damage. The patio outside of the doors was not properly sloped and allowed water to enter the home. This was fixed and the patio was leveled to prevent future damage. The fireplace was updated, the wood-paneled wall was refinished, lighting fixtures were replaced, new window coverings were added, and of course there is fresh paint.

Here is the new living room: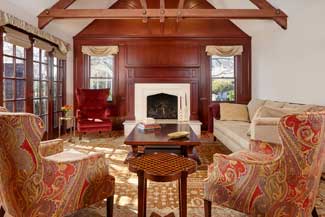 Here is the old dining room:

Here is the new dining room. Some of the trim on the windows was repaired and all of the trim was refinished.There is new baseboard and crown moulding.

One of our favorite combinations, a Waterstone Annopolis Faucet, Native Trails copper farmhouse sink, and Landmark Metalcoat accent tiles in the backsplash.



Waterworks faucets and bathtub: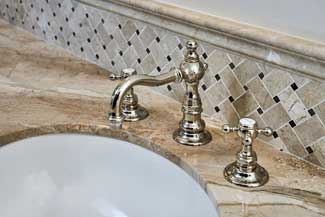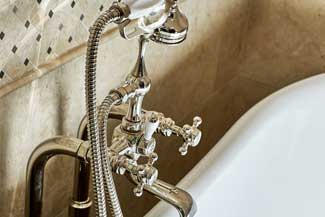 Stone mosaic rugs throughout the home: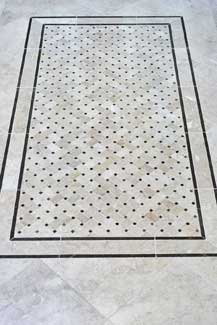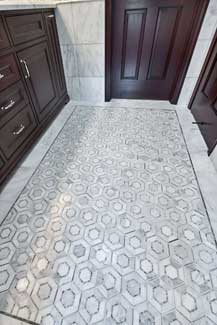 New Laundry Chute: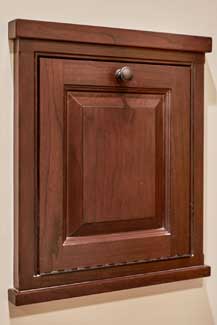 Fine carpentry work on wood trim:

------------------------------------------------------------------
Bill Fry
Wm. H. Fry Construction Company (licensed general contractor #520785)
EPA Lead-Safe Certified Firm (#NAT-46691-1)
Certified Green Building Professional
www.billfryconstruction.com